As with everything I do, there's always an element of risk attached. That risk comes in many forms; financial, emotional and also in the form of sacrificed pride.
I genuinely believe that every business or product I create has the potential to become the next big thing and perhaps it's the adrenaline that comes with it which continues to fuel my drive for an entrepreneurial lifestyle.
For me, I don't think about succeeding. In fact, I'd almost go as far as to say I don't like succeeding. It sounds crazy, but it's true. I don't like succeeding because I have a problem; I still don't know what my utopia is. I don't feel successful now even though I might seem it in other peoples eyes.
For me the question, what is success? Still remains unanswered.
This post isn't actually about my idiom of success. This post is about documenting to you my first failure in the App Store. This application certainly wasn't very public (probably why it failed) but, this failure has without a doubt been my most successful one.
Let me tell you exactly NOT what to do when you think you have the next billion-dollar idea.
I am going to start right from the beginning, and give you a little bit of background.
I had previously had two hits, I'd say out of complete fluke, some people might disagree. Regardless of what I, or anybody else thinks – they still did reasonably well in terms of a monetary gain.
I had the idea for Appdaq when I was fourteen.
Ok, that's actually impossible considering the App Store didn't even exist then but the idea was almost identical – just swap the apps for music. If you don't believe me, ask Steve. He's the poor guy who had to put up with me as an annoying teenager.
I don't want to go into too much detail about the idea, you can quite clearly see the idea if you go through to the landing page; it's a stock exchange for digital content.
I had the idea for a long time, and it wasn't until 8 years on I thought with the emergence of the App Store I could finally realise my vision. Throughout my career, the hardest part for me, bearing in mind I am neither a creative or developer, is getting others to share my vision. For my first two applications, I was fortunate to have the funds available to pay a development house offshore to create the products and somehow, they became successful.
This time however, I wanted to work with people much closer to home because I thought having more control would be crucial to the success of this application. I eventually picked an agency, run by a good friend of mine that I thought could do a good job. I got on with everyone in the business and met some very talented individuals. Dan Hopwood, Scott and Nate struck me as genuinely very gifted individuals.
We split the product down the middle 50/50. Here's a quick overview of what each party brought to the table;
TN;
The Idea
The Name
An input on product execution
Marketing and Promoting the application
I'll be the first to say that I believe it's 10% idea, 90% execution. I say that because I was reluctant to even write it was my idea as well as my name but for the sake of this post, it's important
My skills have always been in the promotion and marketing of a product and it's without a doubt that input that I believe I was rightly entitled to 50% of the product.
Floxx;
The Delivery
The Development
Project Management
Floxx played the most important role throughout the development of the product. Day to day management and overall execution is obviously the most time intensive undertaking. Needless to say, they deserved their share in the application.
The deal was done on a friendly handshake between Rich (Owner of Floxx) and I.
With the background set, I'm now going to take you through the process and product lifecycle.
Remember, this is a post on how NOT to create a startup so be sure to put all the advice below into the 'what not to do' bucket.
I created a very loose brief for the vision along with a name I had stuck with for a couple of years; Appdaq.
I knew that the guys were interested in trading/banking which made things alot easier when it came to selling the vision; It only took one meeting.
Floxx had launched a few other applications into the store after raising investment but neither of the ventures turned out to equate to the success everyone had hoped but, they continued to exist as an entity using a hybrid approach to business; 50% their own products, 50% client products.
As I said, the agreement was done after a session at Floxx HQ and I would spend the next 6 months to a year working closely with the company as it scaled from 4 employees to 12.
The development of the app itself was quite a simple build and Dan, the CTO and Co-Founder of Floxx developed the prototype very quickly.
The complexity of the application lied within the economy that we were creating as part of the game. We needed to simulate real transactions and understand the differing intrinsic values of various applications we were going to put on the Appdaq platform.
Nate is without a doubt one of the most exceptional people I have ever worked with. At the time of hiring, he was studying economics at York that University (he's since graduated.)
Nate was only at Floxx for two weeks but in that time, he came up with the foundations of the economy, which still exists today. Rich also has coding knowledge and he was very active in working with Nate to ensure the algorithm and economy worked well.
We eventually got to a stage where the prototype worked well. We knew we could launch this as an MVP, watch the usage patterns and initially use manual intervention to stop the inevitable rise of hyperinflation – keeping the game competitive.
Throughout the development lifecycle, we came up with new features that we thought would add value to and benefit the entire proposition. It would have been easy to add more features, further pushing back the launch but we wanted to live and learn.
During the development phase my role was very much a high level one. I didn't want to get to involved in all the finite details – it's easy to point fingers and ask to move various designs one pixel to the right but when you're juggling client products alongside your own. You have got to make priority calls.
We were delayed with our main launch quite significantly because development resources were stretched and we ran into our fair share of issues with Apple.
Here's a few things that with hindsight, I would have changed;
– Commit a dedicated resource to the project
As I said, regardless of your company mantra; if you have limited resource and a paying client with a deadline…or your own product – you know who takes priority calls.
– Be more involved with the development decisions
Not because I add any value to a technical team in terms of coding capability, but from a marketer's perspective, it's great to understand how everything works. You often find interesting angles to hook new customers when you take a more technical look at your product.
To be honest, the majority of the problems didn't really start until the end of the product creation.
What's frustrating is that if we were to rewind, there were too many mistakes, which were simply too costly, I knew they were costly but at the time, others couldn't see that. Let me tell you about the errors.
When we thought we had a stable build, we pushed it to Apple.
No surprises for a first time submission, we were rejected.
We were rejected because we violated 8.5 of Apples Guidelines.
We fell foul of Apples guidelines because of the fact we had other apps within our app and, we were attaching a value to their brand. I understand their reasoning for not allowing us in.
Even after having said that, many people who know me will understand how I operate, and you'll know I have an issue with the consistency of reviews at the Apple headquarters. Eventually after a brief chat with Richard Chipman (who is always very helpful) about the rejection, we re-submitted with a quick hack;
We didn't actually change anything.
All the infringing material was run server side so whilst the app was in review, we simply changed the economy to show apps we owned the copyright to.
With this little tactic, sure enough, we were in.
Whilst this venture is currently a failure in terms of execution and marketing, there are a few things we collectively followed in terms of pre-launch activities;
#1. We created an enticing splash page that gave us the opportunity to gather early BETA users to help with initial reviews.
#2. We generated hundreds of sign ups, which helped us with initial traction.
#3. We generated a number of enticing banners that meant we could advertise in cross promotional platforms to further increase our awareness and initial traction.
#4. We created a press kit and a product page that showcased screenshots, a press release, the icons in various sizes and a bit of information about Floxx and I.
#5. We created localized app descriptions for Spanish, Italian, French and Russian languages which helped us open up our distribution.
#6. We identified YouTube reviewers who I could reach out to and engage with on a personal, one by one basis straight after launch. YouTube is a huge driver of traffic to social sites and also mobile websites so if you can capture the attention of a YouTube reviewer, it can have a really nice impact on reviews and downloads to your application.
#7. We harvested ID's of Facebook users who were connected to fan pages and closed groups of financial simulation games so we could directly promote to them.
#8. We also put in place all the app review sites that you can reach out to and submit your URL to so as soon as we launched, we led with a promotional offer to gain traction and awareness.
As I said, the build was uploaded, we were approved and I said to the guys that we need to launch mid-week.
Why? It's much, much easier to gain traction when downloads throughout the marketplace are in a trough. You disagree? You're wrong. Read this.
I had mentions setup for Appdaq and I thought we were waiting for a developer release but the notifications I had setup for Appdaq started to flood in and ping my inbox immediately – it was clear that for some reason we had already launched.
I dropped Rich a note to understand what had happened and he had said he wanted to test the algorithm in live. That is logical and a fair thing to do, but having a false start has a much bigger negative effect than you might realize;
There are hundreds and thousands of applications and bots that pick up newly launched applications. They scrape all the screenshots and post to audiences who want to be first. The problem was, that the app went live for a few hours and was then pulled. All the automatically generated links were dead and we lost out on a lot of traffic.
More crucially than this, we had a launch date and we have just become old news.
We're no longer current. Any press release we send out showing our launch date is not going to correspond to the Apple launch date and when journalists like to be first; sending them a release with dates that were not accurate was never going to go down well.
After we removed the application from sale I was told there was another problem.
Again, easily done but when we both have high standards, you can only afford so many errors.
Apparently push notifications were not sending because a test certificate was uploaded instead of a production one. All of a sudden, one of our main engagement tools was redundant.
We needed to get this fixed and we did but it took time and if you remember, we had already launched so the longer we took, the less attractive we appeared to publications.
We resubmitted and eventually launched.
The press releases were scheduled to go out later that day and I pushed the release through PRMac and PRWeb (free and paid for services).
We set up a dashboard that could track our DAU, WAU and ARPU (Average Revenue Per User), which from a marketing perspective is crucial.
I had a committed budget of £10,000 spend for phase 1 of marketing the application.
I know that with £10,000 we were never going to buy our way to the top of the charts, but – it was easily enough to validate/invalidate our assumptions and prove that the product had longevity.
I was very active before we launched in speaking to a number of contacts who have been involved with game based applications. One common theme that was brought up; persistence.
Games are never an overnight success, some might appear it – but the reality is, it's the result of tremendous hard work over a sustained period of time.
If you look at our development effort, that's probably another £20,000 worth of resource committed in terms of development time, project management and contracting.
The reason the actual monetary value of costs are disproportionate by the tune of about 50% is simple, marketing effort and time is a lot harder to track. The £10,000 was supposed to be used for PPI campaigns, buy promotional campaigns and help push our app into others.
Whilst offline marketing is notoriously difficult to track, almost impossible – online can be easily measured and because of this, marketing because Maths.
It's painstakingly simple actually; your product will become successful when your ARPU exceeds that of your PPI cost.
The only way you will get there is through iteration in both your marketing avenues and product attributes.
For example; every single platform you buy installs from will give you consumers with varying conversion rates on in-app purchases and click through rates.
All in all, the cost for phase 1 from both a marketing and development perspective would have eventually become proportionate if time had allowed it.
As the app went live, all the pre-launch activities kicked into place;
#1 The press releases went out.
#2 The BETA sign ups downloaded the application.
#3 I sent cross-promotional traffic (albeit at an expensive CPI) to our app to generate early reviews
#4 Social Announcements went out
#5 Sent out the application link to many YouTube reviewers
#6 Created posts on a number of application based forums to generate early hype
As I mentioned earlier, because of the early launch – app aggregators no longer picked up our app so we didn't benefit from any early/free publicity within these apps which was frustrating.
The press releases didn't seem to have the conversion rate I have come to expect from my applications. Again, many of the automated bots write about it – but no bigger publications or medium sized blogs bothered to write about. That could be due to a number of reasons;
1.     We're old news (the dates don't correspond)
2.     They don't like our product
3.     The press release is poor
4.     We won't add value to their audience
5.     We're just not newsworthy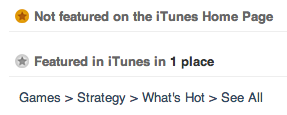 The first day, in fact the first couple of days went ok – we creeped into our respective gaming category, we gained some good reviews and we were getting some great feedback via social media. Everything was going ok.
Downloads certainly were not cataclysmic, in fact they were very modest – but that's what I've come to expect in today's app store; it's no longer a sprint, it's a marathon.
Our forum posts on TouchArcade generated a 5-page debate, and we quickly got to a review base of five stars.
A few days after launch we looked like this;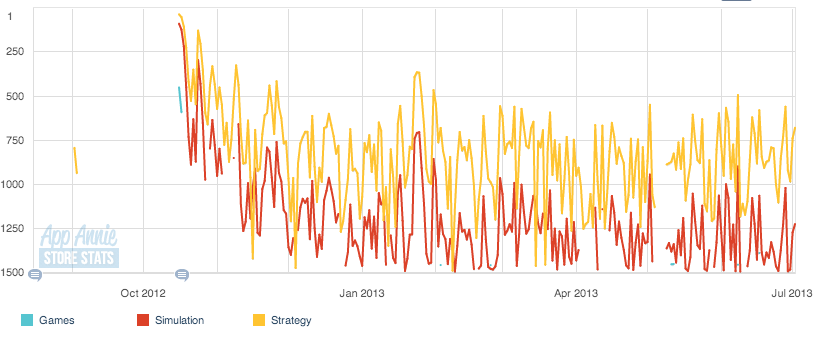 I spent the next month following up on our press leads, pinpointing new app review sites to target, monitoring various other PPI networks and closely analyzing our ARPU.

If you want to use our App Review List, go ahead and use it here.
As I said, a lot of marketing comes down to Math; if your ARPU is considerably down, there is absolutely no point in pushing the marketing efforts hard because you know you won't see a return. An analogy could be filling a bucket up with holes in it.
I had harvested all these Facebook ID's using some quite sophisticated tools and was ready to invest more time and energy into acquiring new users.
After a few corrections in terms of where I was buying media, I eventually invested into a mass market, untargeted PPI campaign through Facebook and Flurry because we wanted to increase our numbers dramatically.
After an initial £2,000 spent, we were seeing an ARPU of £0.12 – which for v1.0 is by no means bad, for a first version. If you look at the ARPU for other big applications, it gives you an idea of where we were;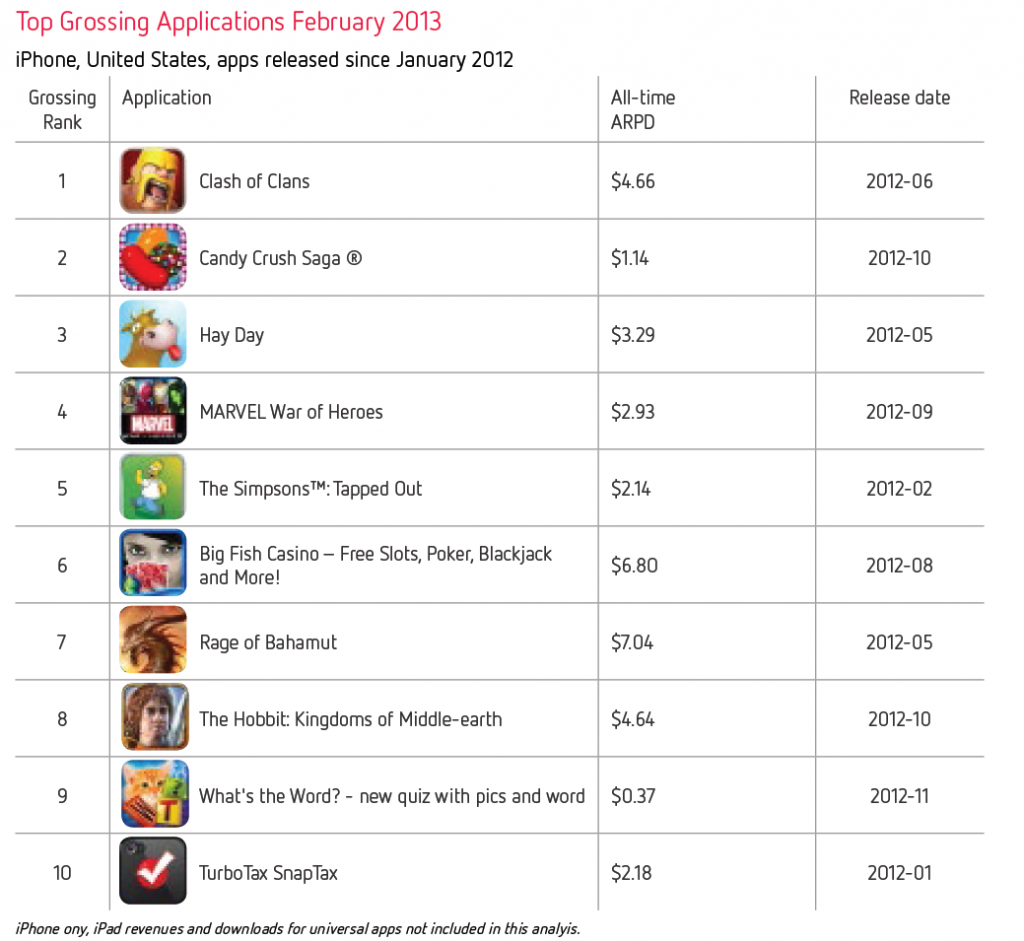 After the first month to six weeks – we were going back and forth with various things and I was very clear that we needed to iterate on a few things to increase our conversion rates as well as make some changes to algorithms. I also wanted to add in a recruitment feature that would allow users to invite users to the game and be rewarded for doing so. If we had added features like this, for every one user we buy – we're hopefully going to recruit a few more which further decreases the average cost per acquisition.
However, when I took the next steps back to the guys, they didn't want to continue. The app wasn't hitting their expectations and they had too much pressure from clients which meant resource wasn't there for Appdaq.
After a bit of toing and froing we were stuck. They didn't want to proceed whilst I did – but I wasn't going to commit any more time and marketing spend if I knew we were restricted in terms of development changes.
I totally understand that you sometimes fall out of love with your product but to give up after six weeks, on any application is cutting it fine.
Sadly, that meant there was no way this product or business could continue because there was no longer synergy between us and we needed to go separate ways.
I wanted to take Appdaq and expand the product.
I would have brought it under Liquid5's umbrella and worked hard to increase both the conversion rates and product offering.
Sadly though, we just couldn't cut a deal – I wasn't prepared to pay the £20,000 development fees they were requesting. I didn't think it was fair and more over; I don't believe anyone would pay £20,000 for a product that currently has very little value.
I offered to take Appdaq off them on a ratchet basis; I'd work hard to promote Appdaq and take it forward. I would pay them £5,000 up front and on top of that, give them 50% of all the revenue until their costs were recuperated.
That wasn't and still isn't working for them.
It's currently still sitting in their account, dying a slow death with just under 400 daily active users. Which is still quite remarkable.
Floxx actually shut for a little while, whilst Dan and Rich went their separate ways. Rich and a few of the team moved to create Delishery.
So, with all that said, when you collate the negatives – I think I can concisely match them to the four points below;
–       I should have been way more up front about the fact the game won't make us $1,000,000 overnight. It will need iteration and if you can't fulfill that – there's no point even trying.
–       We had a very disjointed strategy when it came to execution and marketing overlap which cost us when our application launched prematurely.
–       Many of the review sites that had previously picked up products I have been involved with didn't blink an eyelid because of the different messages.
–       I should have been more transparent about my activities and how it's important we are open in terms of communicating product decisions through to the marketer.
When partnering with people, especially if you, like me bring a skillset that is often intangible you need to be very upfront about how the relationship works and what success looks like for both parties.
Even though this episode sadly ended up as a failure, as with all failures – you must take the positives.
This is without a doubt my most successful failure.
As I said, since Appdaq, I have given this as a case study about how NOT to create a viable business.
If only we validated our assumptions throughout the development.
If only we had started small, spent a few thousand on validating the concept on a very basic prototype which we could have BETA tested.
If only we monitored conversion rates earlier and watched the ARPU change. If only, if only.
Hindsight is a wonderful thing.
However, for me, my biggest takeaway from this are two new relationships – Nate & Dan. Nate has now become a crucial part of my latest venture, Tapdaq.
The only correlation between the two is the suffix, which I came up with (actually I lie, NASDAQ did).
The skill-set Nate showed me whilst we were working together on Appdaq around the economy implementation was amazing. I knew there would come a point I could re-use his expertise in another venture and luckily for me, the time came sooner rather than later. We hired him to work with us at Liquid5 and he's almost finished his first assignment – which looks amazing.
Dan has also become a very good friend and I definitely consider him as one of the true talents in London. Like Nate, I can definitely see us working together again, hopefully soon; probably on a similar product.
As I have said, even though sometimes things don't go to plan, it's the challenges that define you, not the successes.
BUT
Above all, even when you do have a failure, don't ever have any regret. I certainly don't.
Whilst not one individual is to blame for Appdaq's demise, I wanted to write this post to highlight the mistakes that were made.
Many people preach about failing, but not many write about it.
I wanted to change that.
Don't make the same mistakes we did and make sure you give yourself the time your product deserves.
Lastly, if you're an indie developer and want to see what I'm working on next. Head over to Tapdaq.com and sign up. If you don't want to do that, follow me instead.